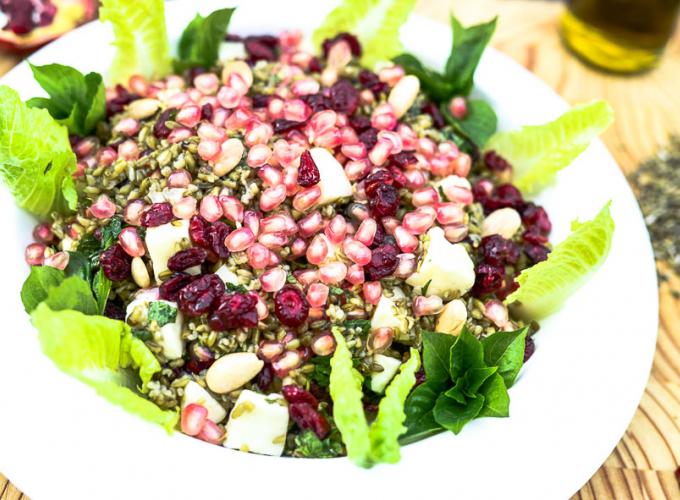 Freekeh, Halloumi and Pomegranate Salad
Freekeh, Halloumi and Pomegranate Salad, a gorgeous colorful salad that is loaded with freekeh, dried cranberries, pomegranate seeds, halloumi cheese, mint leaves, iceberg salad and toasted slivered almonds, all dressed with a lemon-olive oil dressing to compliment the ingredients.
So you may be asking what is freekeh?A popular grain from the Middle East. Freekeh is a cereal food made from green wheat. It has a nutty flavor and smoky aroma. The green wheat is harvested when the wheat is still young. It is then sundried and roasted. After cooling down, the wheat is rubbed to separate it from its chaff. The grain derives its Arabic name. Freekeh comes from the Arabic word AlFarak which means to rub - a nutritional powerhouse grain that is high in proteins, fibers, calcium, iron and potassium.
The trendy "Freekeh, Halloumi and Pomegranate Salad" has fantastic combinations and a nice contrast of flavors. The sweet cranberries and the pomegranate seeds matches the smoky freekeh and the crunchy toasted almonds, and the citric- olive oil dressing balances the flavors. Not only this salad is nutritious, but delicious and will make you full for several hours. Be adventurous and give it a try! Happy eating!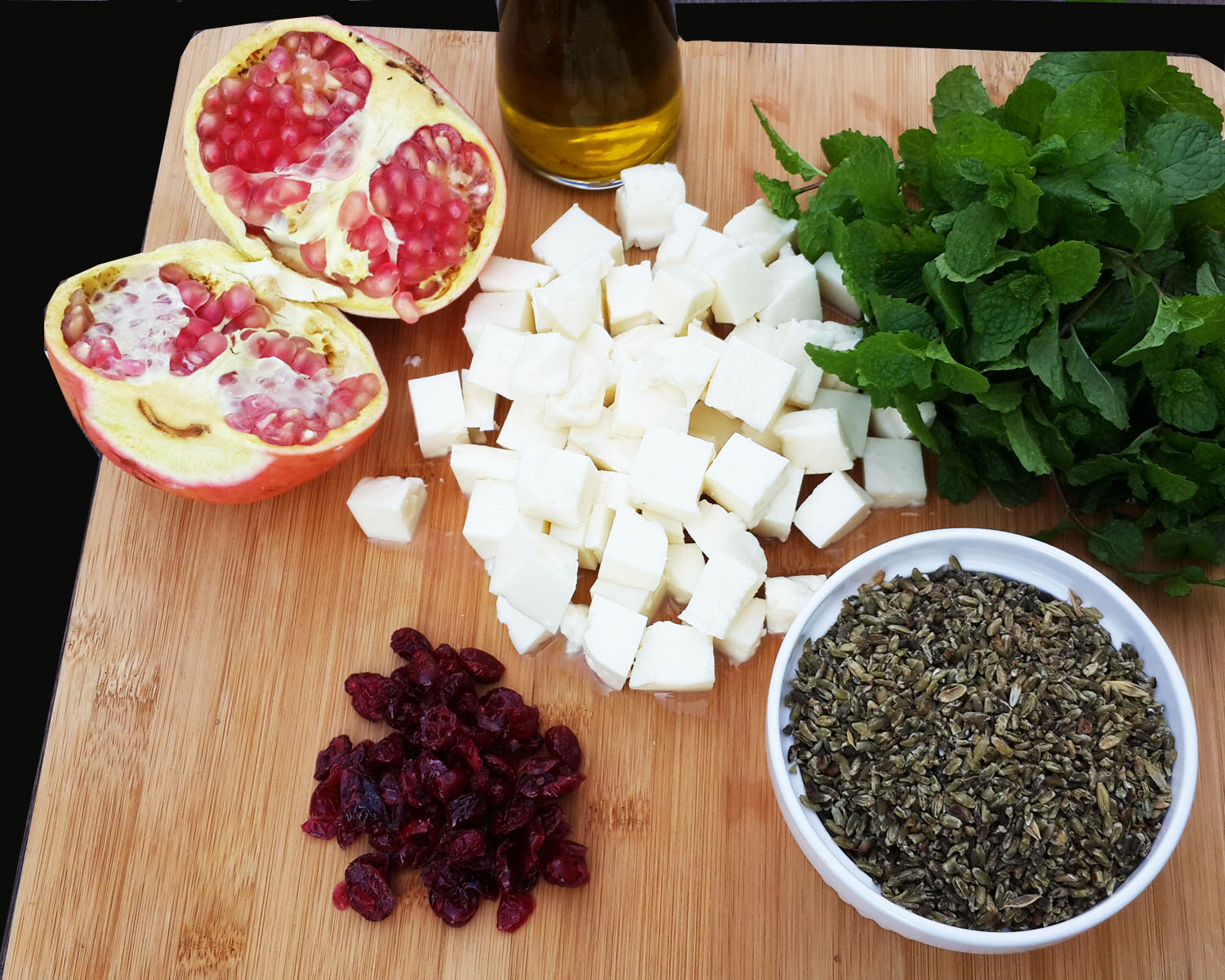 Mix all the ingredients together.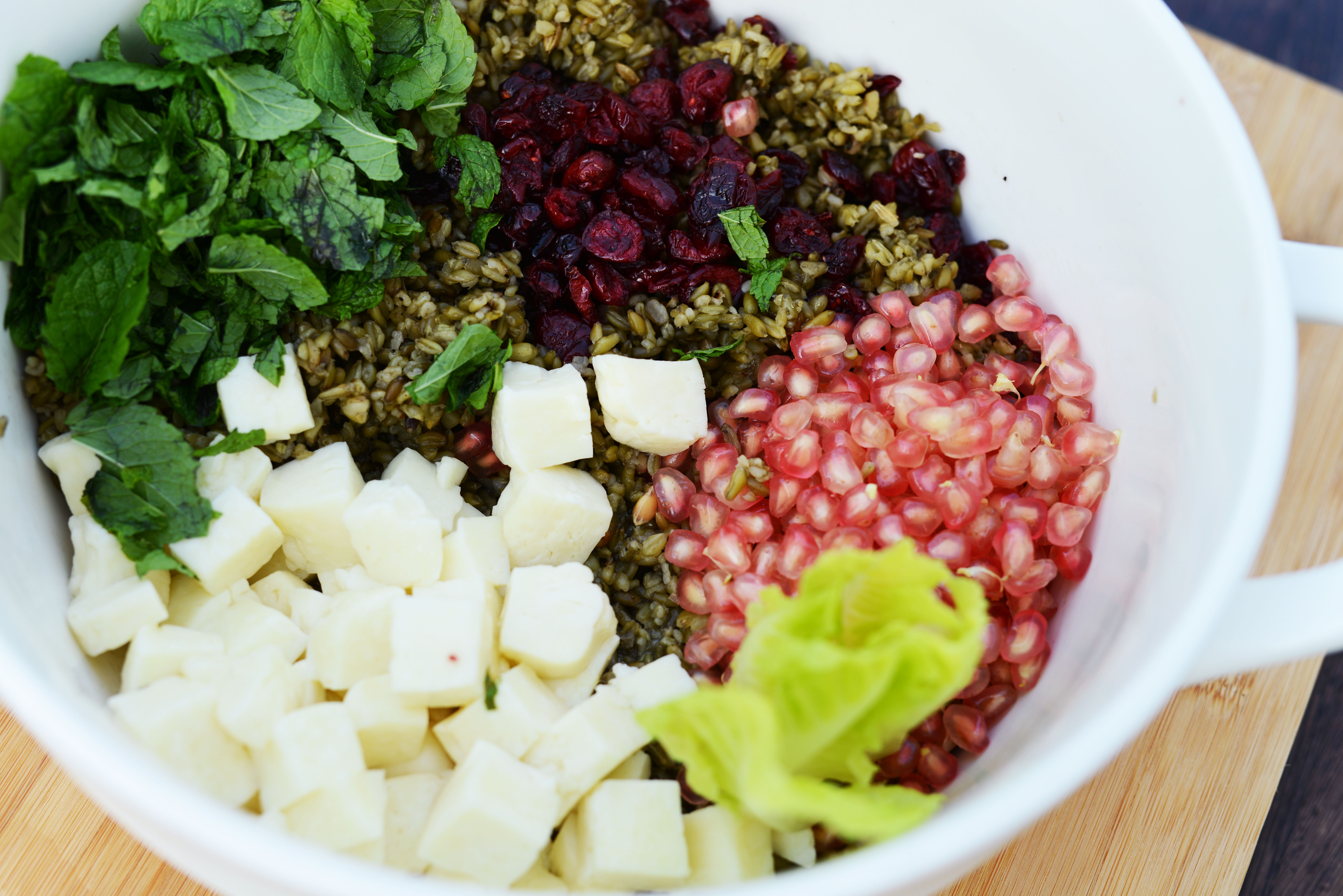 Ingredients:
1 cup freekeh

1 ½ cups water

1 whole pomegranate, seeded

¾ cup dreid cranberries

250 g. / 9 oz. halloumi cheese, diced

A handful of mint leaves, chopped

1 cup iceberg salad, chopped

¼ cup slivered almonds, toasted

¼ cup olive oil

¼ cup lemon juice, freshly squeezed

1 teaspoon salt, or to taste
Directions:
Soak the freekeh in water for 10 minutes. Drain in a sieve and rinse under running water and drain.

Place the water in a medium saucepan and bring to a boil. Add the freekeh and salt, reduce heat to very low, cover up simmer for 25-30 minutes. Remove the pan from the heat and allow to cool down.

In a large bowl, combine the dried cranberries, diced halloumi, pomegranate seeds, chopped iceberg, and mint leaves. Add the freekeh, olive oil and lemon juice. Mix well and taste to adjust the salt.

Transfer to a serving plate and sprinkle the toasted almonds. Enjoy!
If you enjoyed this recipe, be sure to subscibe to our newsletter so you never miss a single recipe.
All photos and content are copyright protected. Please don't use photos without prior written permission.