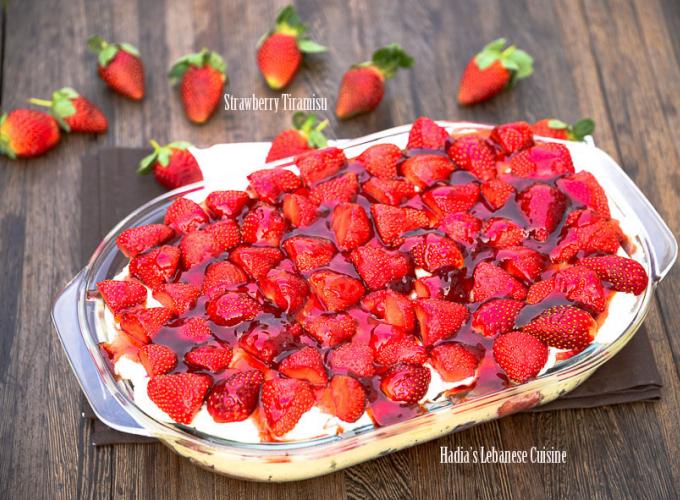 Strawberry Tiramisu
I am a huge fan of tiramisu but I tend to steer clear of recipes featuring raw eggs. In the book, I shared two tiramisu recipes that are strictly eggless – a classic tiramisu and a banana tiramisu! And no one would ever notice that they are eggless!!
Today I am sharing with you a strawberry tiramisu that I save making for my son Ali when he comes back home. He told me once that he would happily eat it as a birthday cake.
Here will be using the same concept of tiramisu in layering the soaked lady fingers and covering with a filling of mascarpone, whipped cream and sugar except that the recipe features no coffee. The lady fingers will be dipped in a canned apricot juice and the strawberries on top will be glazed with an attractive strawberry jam! A finger licking dessert and definitely a keeper!
If you are entertaining, make this dessert one day ahead and keep things simple. An overnight in the fridge will allow the tiramisu to nicely firm up. It even tastes better as flavors infuse together.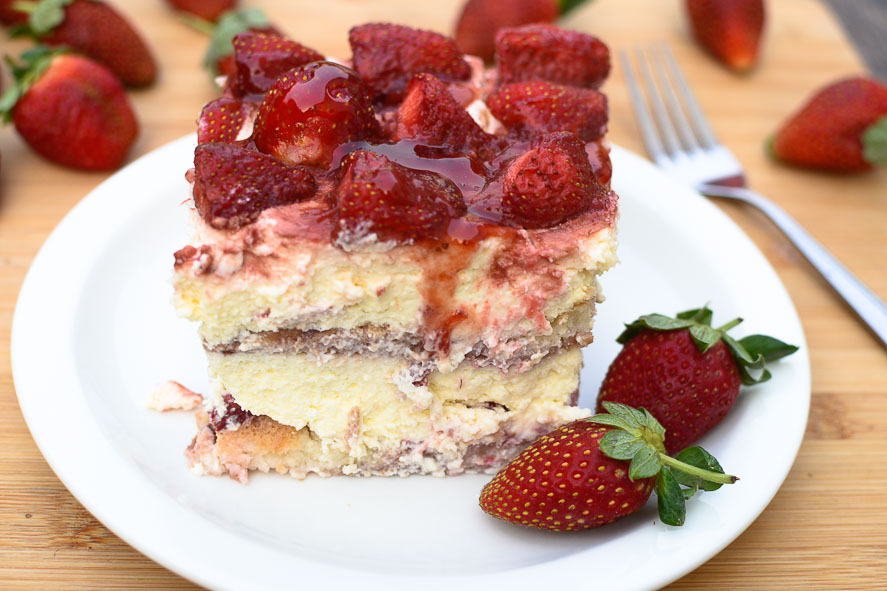 Ingredients:
30 pieces ladyfingers

600 g./ 1.3 lb. fresh strawberries, hulled and halved

6 tablespoons strawberry jam

1 table spoon water
For the filling:
650 g./1 lb. 5 oz. mascarpone cheese

4 cups/ 1 liter heavy cream

1 cup sugar
To soak the ladyfingers:
800 g. / 1 lb. 12 oz. canned apricot, drained (use the juice only) and save the apricot chunks to your cakes or fruit salads

A drop of strawberry flavoring, optional, but I do recommend it if available, it enhances the flavor
Directions:
For the filling: In a bowl, beat the heavy cream until soft peaks form. Set aside. In another bowl, combine the mascarpone and sugar and beat until smooth. Fold in the whipped cream and stir gently to incorporate (don't over beat). Refrigerate for 1 hour.

In a deep bowl, mix together the drained apricot juice and the strawberry flavoring.

Prepare a large deep casserole dish. Dip half the quantity of the ladyfingers, one at a time, into the apricot juice. Spread over the base of the dish.

Spread half the quantity of the mascarpone mixture over the layered ladyfingers. Sprinkle a handful of halved strawberries over the cream.

One more time dip the ladyfingers, one at a time in the apricot juice mixture and layer over the mascarpone mixture.

Spread the rest of the mascarpone mixture evenly on top.

Distribute the strawberry halves evenly over the top covering the cream.

Combine the water and jam in a skillet over medium heat enough to loosen the jam. Drizzle the jam evenly over the strawberries. Refrigerate for a minimum of 6 hours or overnight. Enjoy!!
You might also enjoy our Eggless Strawberry Mousse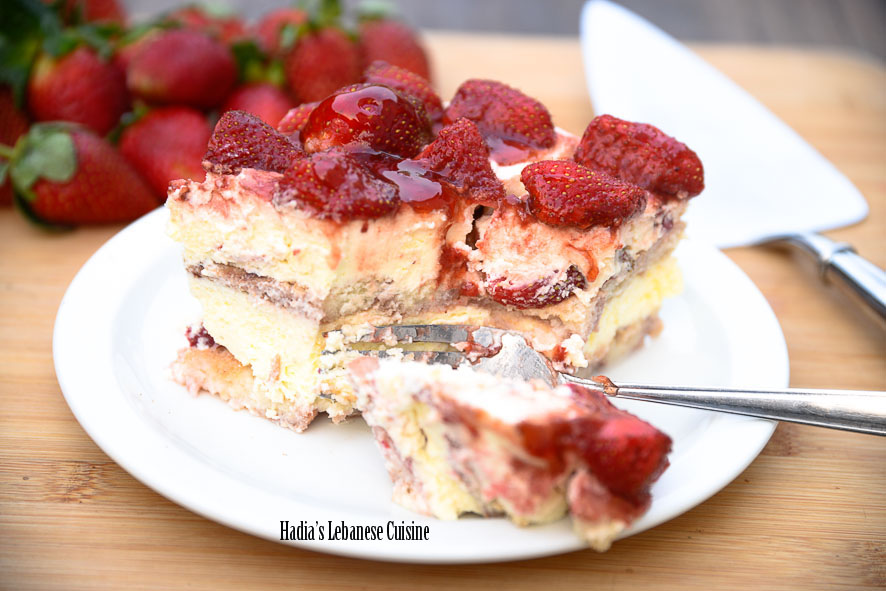 If you enjoyed this recipe, be sure to subscibe to our newsletter so you never miss a single recipe.
All photos and content are copyright protected. Please don't use photos without prior written permission.